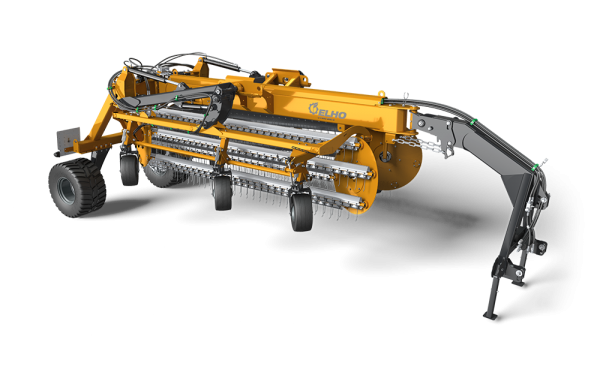 Description

The new ELHO V-Twin 950 Super swather produces clean forage efficiently with a working width up to 9.5 metres! 

As harvesters become more powerful, they have the capacity to pick up swaths with more forage. ELHO has developed a new wider trailed swather: the V-Twin 950S with a hydraulically adjustable working width of 4.5–9.5 metres.

The new V-Twin 950S is equipped with HydroBalance suspension to ensure that the machine follows the ground surface smoothly. It also features double rotors that lift the forage and move it in the air it to the centre. This results in top-quality forage. The swath width can be optimised according to the harvester.

The standard V-Twin 950S model can also shift the swather to the right or left side of the tractor. This is useful especially if the space between the swaths is small and you want to avoid driving on the swaths. Another standard feature is the possibility to use only one of the rotors for swathing.

The V-Twin 950 S can be easily prepared for transport. The machine is narrow and relatively low compared to its working width.
Addons

Swath splitter

Hydraulic unit

Wheels 560/45-22,5

Hydraulic brake kit
Technical details

Swath width adjustment, hydraulic

Swath width adjustment, mechanical

Side shift at the draw bar, m

Hydraulic coupling, single action

Hydraulic coupling, double action

Hydraulic connection-free return

Number of hydraulic motors

Hydraulic pressure, min/max bar

Front loader connection, euro

Electrical connection ISO/TR 12369
Downloads
Images
Video