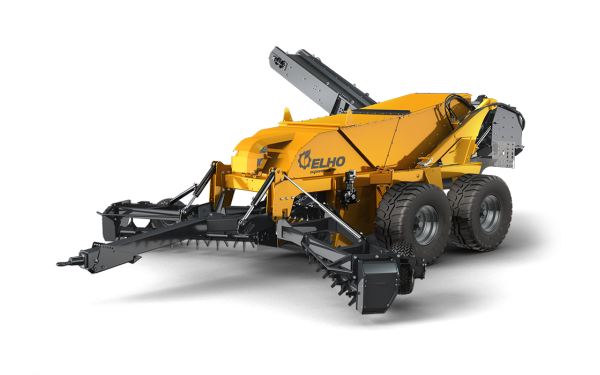 Description

The ELHO Scorpio 550 SF loads stones directly into the trailer!

The ELHO Scorpio 550 SF (SideFlow) stone picker features a conveyor system that transports the material out of the machine, enables stones to be loaded directly into a trailer.

The centre conveyor has a very sturdy structure and lifts stones from the ground. The kinetic energy of the stones is dissipated before arriving at the side conveyor, which has a lighter structure and is equipped with spring steel rods and a rubber mat. Both conveyors effectively sieve dirt off the stones.

The conveyors can be stopped temporarily, for example in the headland, to avoid an obstacle or when switching trailers. The rake tines continue to collect stones all the time, which are then lifted onto the conveyor when it is reactivated.

The Scorpio 550 SF stone picker is controlled electronically, as on the Scorpio 710 model. The Scorpio 550 SF is ideal for large field areas where it would be inefficient for the pulling tractor to unload the hopper by itself.

 
Addons

Hydraulic unit

Towing eye K80
Properties

External features

Trailers up to 2,7 m fits under the conveyor in all situations

The side conveyor transports the stones directly to the trailer

Isobus- control

Automatic reversal of the feed rotor and windrowers

Stepless adjustment of the rotation speed pf the windrowers and the feed rotor

Large windrowers wheels that turn with the machine and are easy to replace

Telescopic drawbar with collision protection

Large 560/60 R22,5 bogie wheels

Internal features

Stepless adjustment of the rotation speed of the windrower and feed rotor

Automatic reversal of the feed rotor and windrowers

Automatic reversal of the conveyor

The conveyor chains are excavator chains

The conveyors make the cleaning efficient

Organic material is effectively removed with a hydraulic fan (additional equipment)

Service mode

The machine's service mode facilitates service
If the center conveyor or side conveyor is blocked you can reverse their rotation. When the rotation is reversed the center conveyor automatically slides up and lets the stone and obstacles down to the ground to avoid damaging the machine
Strong fully bolted support construction, which makes it easy to replace

Internal features

Screen / ground blade

Each steel bar in the screen can be individually replaced

Every other screen steel bar is elevated

Rubber bushings at rear attachment points allow sieve steel bars to flex laterally

Ground blade made of Hardox steel

Screen steel bars made of Hardox and Imacro M steel
Technical details

Tractor power requirment, min/max, kW*

Minimum recommended tractor hydraulic pump size, l/min

Hydraulic flow max, l/min

Hydraulic coupling, single action

Hydraulic coupling, double action

Pick-up lifting tines, pcs

Pick-up tine lifting force, kg

Pick-up tine flex up from screen, mm
Downloads
Images
Video