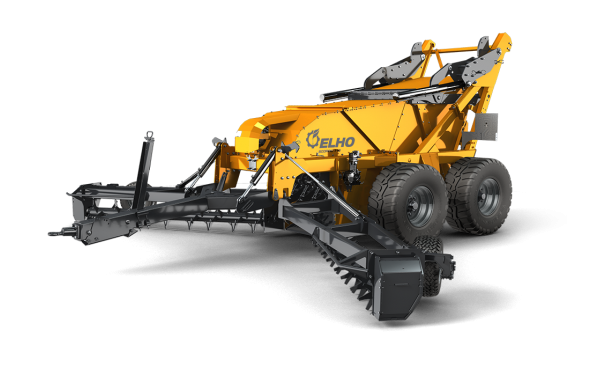 Description

The ELHO Scorpio 710 is an extremely efficient 7-metre stone picker!

The popular ELHO Scorpio 550 stone picker now has a big brother! The Scorpio 710 has a working width almost two metres wider than the smaller model. The wider pickup rotors significantly increase productivity.

The Scorpio 710 features an electronically controlled valve block that can be used with a tractor that has LS hydraulics or with an optional hydraulic unit. Load-sensing hydraulics make tipping the hopper even faster.

The large stone picker is simple to operate from the cab of the tractor using the control unit with colour display. The control unit enables precise adjustments to the working depth, for example.

The screen size can be adjusted hydraulically during operation by varying the distance between the sieve bars.

The new pickup rotors are even more effective at sieving soil. The spiral pattern on the inner tines removes the soil to the side while still lifting stones to the centre. The outer metre of the pickup rotors feature a traditional spiral pattern to ensure that stones at the edges are collected to the middle of the machine.

 
Addons

Hydraulic unit

Towing eye K80
Properties

External features

Tipping height 2,7 m

Quick emptying of the container

Isobus- control

Automatic reversing of the feed rotor and the windrowers

Stepless adjustment of the rotation speed of the windrowers and the feed rotor

Telescopic drawbar with collision protection

Large 560/60 R22,5 Bogie wheels

Internal features

Windrowers

The large and durable winding tines have built-in rotor bearings that are protected from dirt

The wide winding tines are made of Hardox steel and are welded to the rotor tube

The wedge-shaped tines with long welds are designed to prevent stones from flying over the rotor tube

Large and open construction prevents blockages

Protected hydraulic drive

The lifting cylinder is protected from stones

The pickup rotor can be reveresd

The lifting force of the tines are 700 kg

Hydraulics

Hydraulic drive system can temporarily increase the pressure of the windrower motors

Hydraulic drive prevents the machine from being overloaded, broken or worn, even during blockages

Stepless adjustment of the balancing pressure

Internal features

Screen / ground blade

Hydraulically adjustable screen size 30-60 mm

Each steel bar in the screen can be replaced individually

The steel bars are mounted at different heights
Rubber bushings that allow the rods to be bent sideways

Kumilevyt takaosan kiinnityspisteissä mahdollistavat seularautojen joustavuuden sivusuunnassa.

The ground blade is made of Hardox steel

The steel bars of the screen are made of Hardox and Imacro M steel
Technical details

Tractor power requirment, min/max, kW*

Minimum recommended tractor hydraulic pump size, l/min

Hydraulic flow max, l/min

Hydraulic coupling, single action

Hydraulic coupling, double action

Pick-up lifting tines, pcs

Pick-up tine lifting force, kg

Pick-up tine flex up from screen, mm
Images